NSW Women Lawyers Achievement Awards 2019
#WLANSWAWARDS
Held on Friday, 23 August 2019 at Dockside, Cockle Bay Wharf, Darling Harbour, Sydney, we were joined by Emeritus Professor Rosalind Croucher AM, President of the Australian Human Rights Commission as our guest speaker.
The NSW Women Lawyers Achievement Awards recognise and celebrate the achievements of outstanding women lawyers, mentors and firms that have achieved excellence in their area of practice and helped create opportunities for women in the law.
We are grateful for the support of the Law Society of NSW, the NSW Bar Association, the Department of Justice, the Association of Corporate Counsel, Australia and the Workplace Gender Equality Agency for the Awards this year. We also extend our special thanks to each of the Award Prize Sponsors, affiliated supporting organisations, the NSW Bar Association as our Major Awards Sponsor for their generous contributions. Our thanks also to the Law Society of NSW as our Principal Sponsor for their ongoing support.
And the winners are:
Change Champion of the Year, sponsored by Thomson Reuters
Winner: Michelle Dixon, Maddocks
Barrister of the Year, sponsored by New South Wales Bar Association
Winner: Diana Tang, New Chambers
Highly Commended: Sera Mirzabegian, 10th Floor Wentworth Chambers
Highly Commended: Vanessa Whittaker SC, 11 Wentworth Chambers
Private Practice Lawyer of the Year, sponsored by Genesis Offices
Winner: Suzie Leask, Australian Business Lawyers & Advisors
Corporate Counsel of the Year, sponsored by Bartier Perry
Winner: Yen Hui Tie, AMP Capital Investors Limited
Government Lawyer of the Year
Winner: Juliana Crofts, Legal Aid NSW, Port Macquarie Office
Community Lawyer of the Year, sponsored by Colin Biggers & Paisley Lawyers
Winner: Terri Janke, Terri Janke and Company
Regional Lawyer of the Year, sponsored by Catherine Henry Lawyers
Winner: Lorri Field, PDC Lawyers & Planners
Legal Academic of the Year
Winner: Prof Nan Seuffert, Uni of Wollongong, Legal Intersections Research Centre
Mentor of the Year, sponsored by The College of Law
Winner: Jennifer Harris, Clayton Utz
Rising Star of the Year, sponsored by Herbert Smith Freehills
Winner: Mariam Hammoudy, Refugee Advice Casework Service
Highly Commended: Dannielle Ford, Cheney Suthers Lawyers
Outstanding Law Firm of the Year, sponsored by The Law Society of NSW
Winner: Coleman Greig Lawyers
Woman Lawyer of the Year, sponsored by Gilbert + Tobin
Winner: Pauline Wright, PJ Donnellan & Co
Highly Commended: Fay Calderone, Hall & Wilcox
Watch the inspiring video played at the event.
'Celebrating Pioneer Female Solicitors'
Awards Dinner Gallery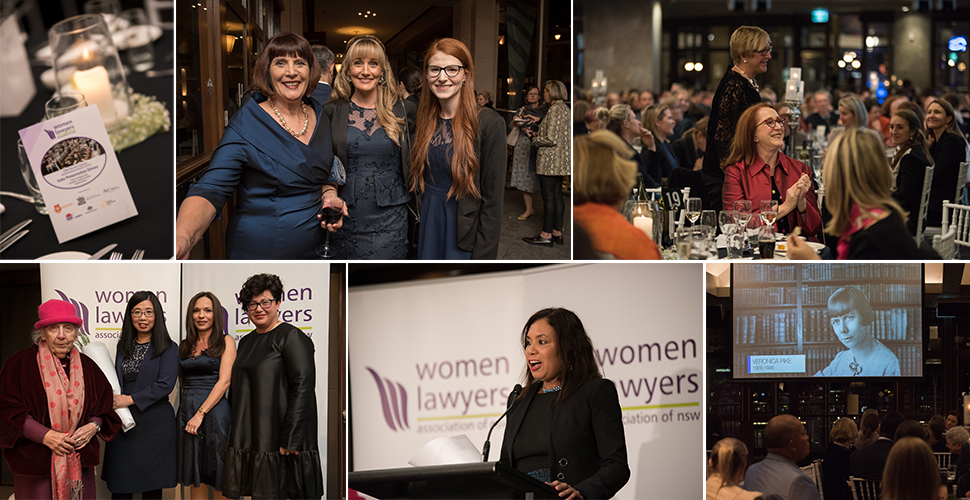 Photos by Jamie James