Dear Members & Colleagues 

I am delighted to acknowledge the Law Society of NSW's continued support of our Association as our Principal Sponsor. Their continued support enables us to provide added value to our members, and we look forward to working with them on projects and events of mutual concern and interest.

With the end of another financial year upon us, annual membership renewals are due as of 1st July. On behalf of the Committee, I would like to take this opportunity to thank you for your past support. If you have not already renewed your membership, I encourage you to do so as our membership base is an integral platform for our ongoing operations. If you are not yet a member, please consider joining. For further information on joining or to renew your membership please contact our office or visit our website. Please click here for the Membership Form.

We acknowledge the contribution of two of our founding members, Patricia Dale OAM and The Honourable Judith Cohen AO who passed away early in May. Further details of their achievements are noted below, with fond memories and great admiration for their service to the law, the community, and particularly their female colleagues.

Please join us and distinguished guests for our biennial signature event "Celebrating Women in the Judiciary" to be held at the University, Union and Schools Club 18th July.  Details and registration are noted below together with other events that may be of interest.

We also encourage you to participate in the annual Mahlab Survey on work issues that affect you, and 'Balancing Life and Law' headed by well-respected Professor Margaret Thornton of the ANU College of Law at the Australian National University, who is conducting a research project examining the impact on work/life balance of changes in corporate legal practice. Further details are noted below.

I look forward to seeing you at our next event.

Kind regards,

Rebecca Barry
President

14 June 2012

PRINCIPAL SPONSOR

Support the organisation that has supported women in law since 1952.

For further information on joining or to renew your membership please contact our office or visit our website.

Click here for the Membership Form.
---
'Celebrating Women in the Judiciary'
6-8pm Wednesday 18th July 2012
Union, University & Schools Club of Sydney 
25 Bent Street, Sydney 
It is with great pleasure that we acknowledge the achievements of women in law, and the following appointments to the bench in the last two years in NSW at our biennial signature event.
 

Justice Christine Adamson, Supreme Court of NSW

 

Justice Judith Anne Rees, Family Court of Australia

 

Judge Donna Woodburne SC, District Court of NSW

 

Judge Elisabeth Olsson SC, District Court of NSW

 

Magistrate Megan Greenwood

 

Magistrate Karen Stafford

 

Magistrate Margaret McGlynn

 

Magistrate Louise McManus
Please join us and distinguished guests in celebrating the achievements of women in the law. Please click here for further details and registration. 
---
Vale Patricia Ann Rae Dale OAM (1930-2012)
Pat Dale was a founding and active member of WLANSW and represented the Association at meetings of the International Federation of Women Lawyers (FIDA) where she served four terms as International Secretary. She began her legal career in 1948 at Boyce & Boyce, and ran a private practice from her home in Cheltenham after being admitted as a solicitor in 1954, from 1956 to 1971, when she then became a partner at RD Mulray. Pat became a consultant at Hunt and Hunt in 1988 with her firm's merger there, and retired in 2000. Pat was proud of her contribution to the formation of the Uniting Church in 1977, and gave ten years service as a volunteer Director of the Uniting Church NSW Trust Association, and served on a number of committees and boards. Patricia Dale was awarded the Medal of the Order of Australia OAM in 2005 for service to the community. Her niece, barrister Louise Byrne, has continued her support of WLANSW as a long-time member, previous President and Committee Member. Pat was remembered as 'a great friend of other women lawyers, for her camaraderie, and her sense of humour. Please click here for a more detailed obituary.
---
Vale Judith Cohen AO (1926-2012)
Judith Cohen was a founding member of WLANSW and a Life Member. She was a founding Trustee of the National Council of Jewish Women's Foundation and a long-term member of the National Council of Jewish Women, and served on several statutory committees and councils as well as her involvement with a number of organisations. The Honourable Judith Cohen was awarded the Order of Australia in 1992 for her services to industrial relations. Judith Cohen's career has been characterised by her determination and integrity, dedication and her commitment to fairness and justice for all. 'She was a wonderful role model and paved the way for many of us who followed, and influenced many.' The family will provide a more detailed obituary for our next enews issue.
---
Returning to Practice: Making it all Work
Tuesday 19 June 2012, 9.30am to 2.30pm
The College of Law City, St James Centre, Level 7, 111 Elizabeth Street, Sydney
Cost: LS Member$275.00; Non-Member $330.00 3.5 MCLE units Includes lunch and all materials.
In December 2011 the Law Society of New South Wales released a report entitled "Advancement of Women in the Profession". This event is inspired by the findings and recommendations of this report. 
This program is specially designed to assist women who are returning to practice or who are planning to take a break in the near future. Focused on the practical aspects such as flexibility in the work place, job sharing, resume building, maintaining a practising certificate and CPD. Hear from a line-up of experienced presenters who will share their advice with you as to how best to manage your return to work and highlight the challenges that may be faced and provide you with the tools to overcome these. Familiar with the experiences faced by women, our expert panel have a unique understanding of the issues involved as most have "been there, done that".  Don't miss this unique opportunity to come to grips with the issues involved and to network with others in similar situations. Please click here for further information and registration.
---
BALANCING LAW AND LIFE – ANU College of Law Survey
Professor Margaret Thornton of the ANU College of Law at the Australian National University is conducting a research project examining the impact on work/life balance of changes in corporate legal practice. Recent developments include the emergence of global law firms, the creation of multidisciplinary practices and listing on the stock exchange, which have arisen from the adoption of competition policy. 
The first stage of the research involves a short web-based questionnaire to get some idea of trends across the country. The survey takes only 5 to 10 minutes to complete. It is entirely anonymous and no identifying data is sought. Here is the link: https://www.research.net/s/worklifelaw
In the second stage, it is proposed to conduct interviews with lawyers and paralegals to explore the issues in more depth. Professor Thornton would welcome hearing from men and women prepared to talk about their experiences. All material would be treated as confidential. The research is supported by a grant from the Australian Research Council (DP120104785) and includes International Partner, Professor Richard Collier, University of Newcastle-on-Tyne, UK. Contact: margaret.thornton@anu.edu.au Ph 02 6125 8363.
---
Have your say on the work issues affecting you
Mahlab is conducting its annual online survey and all Women Lawyers of NSW are encouraged to participate. Complete a confidential questionnaire and be one of the first to obtain this valuable report. The questionnaire close on Monday 2 July. Questionnaires are now open www.mahlab.com.au/survey2012
Survey 2012 will compare remuneration, recruitment activity and retention as well as key employment experiences including job satisfaction, while providing valuable insight on Australia's fast paced legal market. Please note that by completing the survey you consent to your data forming part of a published report, however, all personal information will remain strictly confidential. For further information on Mahlab Recruitment and Survey 2012, visit www.mahlab.com.au
---
Help recognise the extraordinary people improving access to justice in NSW by nominating them for a Justice Award.
Established in 1999, the Law and Justice Foundation of NSW's annual Justice Awards recognise the contributions that individuals and organisations have made to improving access to justice in NSW, particularly for socially and economically disadvantaged people.
This year's Justice Awards will be presented on Wednesday 31 October 2012, from 6pm to 10.30pm at Parliament House, Sydney.
The Foundation is seeking nominations from the public in four Award categories:
• Justice Medal • Aboriginal Justice Award • Pro Bono Partnership Award • Law and Justice Volunteer Award
Three other Awards will also be presented on the evening: the Law Society President's Award,
the Community Legal Centres NSW Award and the LIAC Centre of Excellence Award.
Closing date Nominations close 5pm, Friday 29 June 2012.
How to nominate: Visit www.lawfoundation.net.au/justice_awards to submit a form online or return it to us by email, mail or fax.
To have a form mailed to you, please phone the Foundation on (02) 8227 3200 or email justiceawards@lawfoundation.net.au
Enquiries For more information contact Maria Leonardis on (02) 8227 3203 or email mleonardis@lawfoundation.net.au
---
Australian Women Lawyers 4th National Conference – Fri, 10 August 2012 –
Sun, 12 August 2012
University House, Australian National University, ACT
All lawyers need to connect with like-minded people where they can be inspired, challenged and encouraged in their professional and personal lives. No matter what area of law you are involved with you will take away valuable insights. Catch up with old friends and meet new ones at the only national event specifically designed for women lawyers in a public world. The Hon. Diana Bryant, Chief Justice, Family Court of Australia is opening the event. The Hon. Robert French AC, Chief Justice, High Court of Australia is giving an address and The Hon. Justice Virginia Bell, High Court of Australia is also presenting. Penny Williams, the Global Ambassador for Women and Girls and many other leaders are presenting and will be on hand to answer your questions and help you in your journey. Click here for program details and registration 
---
"Doing Justice for Young People- Issues and Challenges for Judicial Administration in Australia and New Zealand" 
Sebel Citigate Hotel Brisbane, August 23-25, 2012 
This AIJA Conference will focus on a wide range of issues, including restorative justice, family violence, shared parental responsibility in the Family Court, social media and child sex offenders  and will have a special emphasis on indigenous youth and on the effects of drugs and alcohol on young people. Judge Betty Hora, a former Judge of the California Superior Court, will deliver a keynote address. Registration is now open and early bird registration is available until June 29. http://www.ammp.com.au/aija12/. The conference also offers an opportunity for solicitors to acquire Continuing Professional Development (CPD) points, with one hour of conference session equating to one point.
---
4th LAWASIA Family Law Conference, Penang 13-14 July 2012
LAWASIA, with the support of the Penang Bar Committee and the Malaysian Bar, are hosting the 4th LAWASIA Family Law Conference. The conference aims to enable participants from across the globe to share and ultimately benefit from the knowledge and experience of one another on topics as varied as family agreements, the dual system of civil and syriah family laws, self-litigation, elder issues, juvenile justice, alternate dispute resolution as well as child protection issues. Further information and registration details are available on the conference website: http://lawasia.asn.au/family-law-conference.htm
---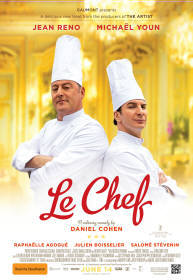 WIN AN IN-SEASON DOUBLE PASS COMPLIMENTS OF ICON FILM 
Email executive@womenlawyersnsw.org.au to go in the draw with the subject heading ' LaChef'. Only winners will be contacted.
LE CHEF in cinemas June 14
Set in the world of food and restaurants LE CHEF is a new French comedy from the producers of the Academy Award winning THE ARTIST. Alexandre (Jean Reno) is a Michelin awarded chef who is battling his meddling boss. He is also facing the heat as a rival, who practises molecular gastronomy, moves in on his turf. Alexandre is desperately looking for an assistant to help him manage the restaurant's two daily sittings. Then one day, as luck would have it, he meets Jacky (Michaël Youn), a self-trained cook with haute-cuisine ambitions. Trailer link: http://www.iconmovies.com.au/Movies/C/Chef.aspx?
---
WIN AN IN-SEASON DOUBLE PASS COMPLIMENTS OF PALACE FILMS 
Email executive@womenlawyersnsw.org.au to go in the draw with the subject heading 'Elena'. Only winners will be contacted.
ELENA The winner of the Un Certain Regard Special Jury Prize at Cannes 2011, the new film from Russian maestro Andrey Zvyagintsev (The Return) is a taut & engrossing moral tale of loyalties, familial ties, and a coveted inheritance. Middle-aged couple Elena (Nadezhda Markina) and Vladimir (Andrey Smirnov), come from different walks of society. He is a well-off businessman; she is a former medical worker, now a housewife. Having met late in life, each has children from previous marriages. Elena's son is unemployed and constantly asking for money. Vladimir's daughter is a careless young woman whose contact with her father is irregular and strained. Their worlds rupture when a heart attack puts Vladimir in hospital and he makes a significant decision: his daughter will be the only heiress of his wealth. The shy and submissive Elena's hopes of helping her son and grandchildren secure a better life are crushed, triggering a desperate plan… Features a stirring score from Philip Glass.
Australian Premiere season commences 21 June, 2012 View the trailer and more at: www.elenafilm.com.au
---
Who are Australian Women Lawyers (AWL)?
Formed in 1997, AWL is the national body representing and funded by women lawyers associations in Australia. The current AWL Patron is the Honourable Chief Justice Diana Bryant of the Family Court of Australia.
Please feel free to pass this email onto colleagues and ensure they are on our email list for future updates and invitations.
Problems viewing this e-newsletter? Click here to view it online