Dear Members & Colleagues

We have been advised there was a network outage when our last enews was distributed on 18th September, and in case you did not receive it, please click here to read.

I had the honour of welcoming guests and providing the introduction for the Thought Leadership Panel Discussion Luncheon Event  co-hosted with the Law Society of NSW on 18 September. We are pleased to provide additional information from the Law Society of NSW following this event as noted below. We look forward to partnering with them for two further events for this year, to be hosted at the Law Society function rooms on 23rd November for a lunch-time networking workshop, and 29th November for an evening event of the same session – save the dates!

A reminder for upcoming events to note: The Janet Coombs Lunch for New Female Barristers hosted by WBF & WLANSW, Friday 19th October at The Law Society of NSW as detailed below, our annual Golden Girls "High Tea" Luncheon Friday 16th November at The Law Society of NSW, and our AGM followed by cocktails, Tuesday 20th November at the Union, University & Schools Club.

We look forward to seeing you at an event soon.


Kind regards,


Rebecca Barry
President

05 October 2012

PRINCIPAL SPONSOR

Support the organisation that has supported women in law since 1952.

For further information on joining or to renew your membership please contact our office or visit our website.

Click here for the Membership Form.
---
The Law Society's 2011 Thought Leadership Project on The Advancement of Women in the Legal Profession, is a significant piece of work exploring factors impacting on the advancement of women to senior positions in the legal profession.  Following on from the launch of the Report and Recommendations in December 2011, the Women Lawyers Association of NSW proudly partnered with the Law Society in a sold-out lunch time panel discussion on 18 September at Quadrant Restaurant, Sydney.
Our guest panellists for the event were:
Cecilia Howard, Cecilia Howard Consulting
Sally Macindoe, Partner, Norton Rose Australia and 2011 EOWA Winner Diversity Leader for the Advancement of Women
Jane Seymour, Barrister, 6 & 7 St James Hall Chambers
Anny Slater, Slaters Intellectual Property Lawyers
Nicole Wilson, Senior Legal Counsel Asia Pacific, Allergan
Discussion topics included flexibility, career progression and unconscious bias.  The panel was facilitated by Justin Dowd, President of Law Society, who noted that the Law Society has made considerable progress implementing the recommendations from the Advancement of Women in the Profession Report with full implementation and a progress report to be released in June 2013.
---
Law Society survey of corporate and government lawyers
A survey has recently been emailed to Law Society members who work in corporate and government legal teams.  The aim of the survey is to provide additional information about in-house practitioners, including the gender balance in senior corporate and government roles.  The Law Society has engaged independent research company Urbis to assist with the survey and all responses will be anonymous and confidential.  We encourage all corporate and government members of the Law Society to complete the survey which should take about 5 minutes.  If you have any questions email monday.briefs@lawsociety.com.au
---
2012 Tristan Jepson Memorial Foundation Annual Lecture, Thursday, 6pm 11 October 2012
The Federal Court of Australia, Level 21, Law Courts Building, Queens Square, 237 Macquarie Street, Sydney
Toolkit for Resilience: Exploring real workplace change for the 21st centuryToolkit for Resilience: Exploring real workplace change for the 21st century.
Julie McCrossin in Conversation with the Legal Profession
Join The Tristan Jepson Memorial Foundation with Julie McCrossin, freelance journalist, UNSW law alumna and our guest panel, in a stimulating discussion about the legal workplace culture and mental health. Admission is free, however, it is essential to book your place. Please click here for further information and to register.
---
19th October, Friday 1.00pm – 2.00pm



The Janet Coombs Lunch for New Female Barristers
Hosted by the Women Barristers Forum & WLANSW 
Janet Coombs (L) pictured with Rhafae Millington at the IWD Breakfast hosted by Mosman Council 12 March 2012
at 
Law Society of NSW, Level 2, 170 Phillip St, Sydney
Please join us and distinguished guests for our biannual lunch and meet the new women at the bar.

Please click here for the Registration Form and RSVP with payment, $25pp fully inclusive, by 17 October to ensure adequate seating.
---
16th November 2012, Friday 12.30pm


Golden Girls Annual Lunch


The Law Society of NSW, Level 2, 170 Phillip Street, SydneyPlease join us at the Law Society of NSW for a 'high tea' luncheon. Our annual luncheon provides an opportunity for our retired colleagues and Life Members to reconnect and impart their knowledge and experience to others. A rare occasion to be able to meet with some of our founding and pioneering women. All welcome. Please click here for the Registration Form  and RSVP with payment, $25pp fully inclusive, by 14 November to ensure adequate seating and catering.
---
LAW SOCIETY OF NSW COUNCIL ELECTIONS – WLANSW current financial member candidates
Coralie Kenny, Corporate Member
I am a current Councillor seeking a second term to support in-house lawyers, women lawyers and business law practitioners by raising recognition of the value they add. I am a member of Women Lawyers NSW and a director of PIAC.  I chair the Business Law and OSR Liaison Committees and am a member of Ethics, Corporate Lawyers and Audit Committees. I have been instrumental in developing Society support tools for in-house lawyers, was involved in the Advancement of Women exercises, and in drafting conduct guidelines (cloud computing/outsourcing).  I welcome transparent communication with members and seek to improve Council's integrity and reputation through better corporate governance and collegiately supporting practitioners. Now at Suncorp Life. LLM(In-house) BEc LLB GAIDC.  coralie.kenny@gmail.com 0408919082
Nea Goodman, Government Member
Former Councillor and former member of the Ethics Committee; Executive Member City of Sydney Law Society; a past President of Women Lawyers NSW and of City of Sydney Law Society. Nea works for FACS and has over 27 years experience working for small firms, government and corporations. Nea is a former board member of CSAHS and was chair of the audit committee. Nea says: "I want to ensure all firms, wherever located, receive Society support through services and education, particularly use of technology, enabling adaption to challenges within a changing work environment" and the National Professional Law Reform Project and Law Harmonisation Project progress for the benefit of members. M: 0408168070  E: Nea.Goodman@facs.nsw.gov.au
Zora Kekeff, Country Member
Current Law Society Councillor – Sole Practitioner – Kekeff & Associates Solicitors, Newcastle. Committees: Family Issues; Fidelity Fund; Finance; Disclosure (Chair).  Past involvement in local area as President Hunter Valley Family Law Practitioners Association and committee Newcastle Law Society.  "I understand the pressures faced by solicitors in small and medium firms in country areas and by sole-practitioners everywhere.  I will continue to ensure that their concerns are recognized and keep our practices viable.  I have strongly advocated for protection of solicitors in respect of costs and solicitor's standing in the community.  I strongly support maintaining regional registries and sittings of Family Courts. T: 49 271994 E: zora@kekeff.com.au
Mark Warton, City Member
Committee member City of Sydney Law Society, Sole Practitioner practising personal injury and general litigation.  In 1996 I gave evidence before the parliamentary committee reviewing the Motor Accidents Act. I have worked in country and city firms, government legal branches, and for plaintiffs and defendant insurers in injury work. I am committed to retaining areas of practice for solicitors, positive promotion of the profession to the public and strong lobbying of government to protect members' interests. I want to ensure that the Law Society remains a united body capable of working effectively for members. T:  (02)92679432 E: markwarton@bigpond.com.au 
---

TRUSTEE SERVICES – IN PARTNERSHIP WITH FAMILY AND TRUSTED PROFESSIONALS
At Australian Executor Trustees (AET), we work with families' trusted professionals such as lawyers and accountants to provide specialist estate planning advice and trustee services. We work closely with lawyers and accountants to help them help their clients who have a relative with a disability, such as a child or grandchild.
Did you know in Australia, almost 20 per cent of people have a disability? And this number is only increasing with an ageing population.
Through our experience in dealing with vulnerable clients, we understand that while caring for a family member with a disability can be very rewarding, it's a huge responsibility and, in some cases, a full-time occupation. And sometimes a responsibility that people do not want to pass down the family tree.
Working closely with lawyers and accountants, we have developed a range of fiduciary services, including specialist advice and structured estate and trustee services, to help you provide a holistic service to any of your clients who may be in this situation.
Our services cover the important issues, including:
•         Control and protection of financial affairs (eg ensuring ongoing income and payment of bills)
•         Healthcare (Who makes the important medical decisions?) 
•         Housing and wellbeing decisions (Who decides on day-to-day expenses?) 
•         Lifestyle maintenance (What are their routines, likes and dislikes?)
The case study  is an example of how we deliver a valuable service, working in partnership with the client's own family and you, their trusted advisers.
---
Centre for Workforce Futures
The Future of Work Symposium Series
THE CHALLENGE OF WORKPLACE PRODUCTIVITY
29 NOVEMBER 2012 – SYDNEY
Productivity in Australia has declined in recent years. Although there is much agreement that we need to improve productivity growth in order to raise living standards, there is little agreement about what needs to be done.
The Macquarie University Challenge of Workplace Productivity symposium will create the space for establishing common ground in the national productivity debate by identifying the main drivers of workplace productivity and discussing how we can promote productive work practices. Prominent leaders from the business community, government and trade unions will join leading academics and economics commentators to examine how the productive performance of the Australian workplace can be improved.
When: Thursday 29 November 2012, 9.30am to 5pm. Lunch, morning and afternoon tea provided
Where: Macquarie University Applied Finance Centre, Level 3, 10 Spring Street, Sydney NSW 2000
Public Transport: The venue is within walking distance of Wynyard Station and Circular Quay.  Visit 131500.com.au
Conference Fee:  $795.00
RSVP: Please click here to register. Registrations close 26 November 2012.
Please refer to our website for the full conference program and further information on our speakers.
---
Exclusive offer for members of Women Lawyers Association of NSW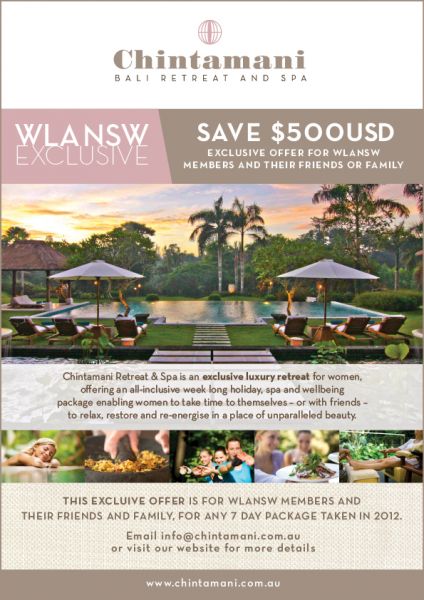 ---
WIN an in-season double passes to the upcoming Australian film, THE WEDDING PARTY.
Email executive@womenlawyersnsw.org.au with the subject heading 'Wedding Party'. Only winners will be contacted.

Steve Thompson, a lovable anti-hero, is the youngest son in the gloriously flawed Thompson family. In a bid to save himself from financial ruin, Steve does the unthinkable and agrees to marry Ana, a Russian woman seeking residency in exchange for a huge sum of cash. Behind closed doors the deal is done, a secret wedding is arranged & in no time life will be back to normal, or so Steve thinks… Until a nosy family friend gets wind of the wedding plans and before sundown the whole Thompson family is gripped by wedding fever. Although Steve's family could use some constructive therapy for their own relationships, they rally together to support Steve in preparation for the world's most farcical wedding. What was once a private registry affair is now a fully-fledged spectacle as Steve's lie takes on a life of it's own, and he is more and more consumed by the fear that he has ruined his chance to be with his true love, Jacqui, forever. In cinemas nationally October 11. Check out the trailer at: http://www.theweddingpartyfilm.com/
---
Who are Australian Women Lawyers (AWL)?
Formed in 1997, AWL is the national body representing and funded by women lawyers associations in Australia. The current AWL Patron is the Honourable Chief Justice Diana Bryant of the Family Court of Australia.
Please feel free to pass this email onto colleagues and ensure they are on our email list for future updates and invitations.
Problems viewing this e-newsletter? Click here to view it online