Dear Members & Colleagues

Nominations for our 2013 NSW Women Lawyers Achievement Awards close 30th August. The Awards Gala Presentation Dinner will be held on 25 October 2013 at Dockside Cockle Bay, Darling Harbour. We are honoured to announce our guest speaker for the event, Prof. Gillian Triggs, President of the Australian Human Rights Commission. A Lifetime Achievement Award and the recipients of a Lifetime Membership will also be announced. We hope that you are able to join us and encourage you to 'save the date' and consider nominating one of our many outstanding women in law in NSW. Please click here for the Nomination Form.

We thank the Law Society of NSW, the NSW Bar Association, the Department of Attorney General & Justice (NSW), the Australian Corporate Lawyer's Association, and the Workplace Gender Equality Agency for their support and endorsement of our Awards. 

We are delighted to announce Award Sponsors Clifford Chance as the proud sponsor of the "In-House Woman Lawyer of the Year" Award, and PricewaterhouseCoopers as the proud sponsor of the "Up and Coming Woman Lawyer of the Year Award". Limited opportunities remain for sponsorship of the awards. Please click here for the Awards Sponsorship Proposal.

Our public database 'Find a Woman Lawyer' has been under redevelopment and is now re-launched. Only current financial members that wish to be included are noted.  Should members require any changes or updates, please contact our office.

Ashurst sponsored and hosted our sold-out event Use of voice – to connect and inspire your audience' with guest presenter Lucy Cornell, Director of Voice Coach, 27th June. Please click here to view the photos from the event.

Please join us at our next event, The Janet Coombs Lunch for New Female Barristers hosted by Women Barristers Forum and WLANSW 13th September at the Law Society of NSW. Our last luncheon was a sold out event, so we encourage you to book early. Please click here for details and registration. 

The Committee is currently finalising events for the remainder of the year and we look forward to bringing you further details shortly. Our Golden Girls Annual 'High Tea' Luncheon will be held at the Law Society Friday 15th November, and our AGM followed by Christmas Cocktails at the Union University & Schools Club on Tuesday 19th November.

Equal Pay Day will fall on Wednesday 4th September this year. This date is chosen as it marks the extra 66 days women in Australia must work after the end of the financial year to earn the same average pay as men. The new ABS figures show that the current national gender pay gap remains relatively unchanged at 17.5%, as recently advised by WGEA, with further information and details of events available on the WGEA website. 

On 17 August, I was pleased to attend the fifteenth anniversary dinner of the Australian Women Lawyers, our national body. Chief Justice French, Victoria's Chief Justice Marilyn Warren and AWL patron Justice Dianna Bryant were among the crowd of dignitaries, past presidents and former AWL Board members who attended. It was a wonderful occasion to celebrate and reflect on the advancement of women in the legal profession over the past decade and a half. The dinner was followed by AWL's Annual General Meeting. Congratulations to our new national president Amy Challans and sincere thanks to her outgoing predecessor, Kate Ashmor.

 

Kind regards,

Margaret Holz
President

 

26 August 2013

PRINCIPAL SPONSOR

Support the organisation that has supported women in law since 1952.

For further information on joining or to renew your membership please contact our office or visit our website.

Click here for the Membership Form.

 

Lucy Cornell pictured below left with WLANSW President Margaret Holz.
---
The Janet Coombs Lunch for New Female Barristers
Hosted by the Women Barrister Forum & WLANSW Friday 17th  May, 1-2pm The Law Society of NSW, Level 2, 170 Phillip Street, Sydney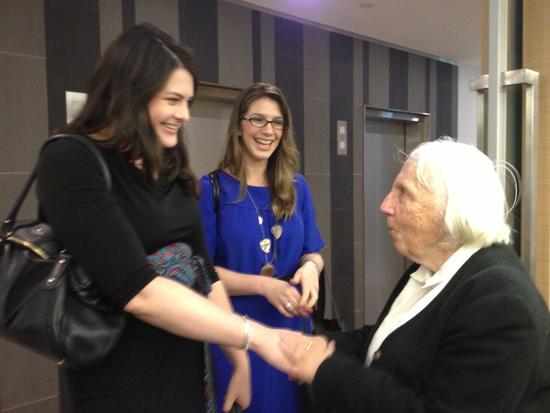 Please join us and distinguished guests for our biannual lunch and meet the 
new women at the bar. Costs $25pp includes the luncheon, glass of wine and beverages Please click here for the registration form. Bookings essential.
Janet Coombs welcoming guests at the october 2012 luncheon event
---
'Using international human rights instruments to advocate for women's rights in Australia'
The Women's Legal Services NSW Foundation invites you to an Afternoon Tea with guest speaker
Professor Gillian Triggs, President of the Human Rights Commission.
Friday 30th August 2013, 3-5pm at the Offices of Gilbert & Tobin, 2 Park St, Sydney Cost: $25 Click here to register. 
---
Judges for Sydney University Law Society Women's Moot
Now in its third year, the Baker & McKenzie National Women's Moot is an initiative aimed at fostering an interest in advocacy in female law students. This year, the question will be on an area of tort law. We are currently seeking female barristers and other female practitioners with an interest or background in advocacy to judge the preliminary and quarter-final rounds of the moot. In particular we are looking for judges for the following time slots:
Monday 30th September – 1:00pm to 3:00pm
Monday 30th September – 4:00pm to 6:00pm
Tuesday 1st October – 11:00am to 1:00pm
Tuesday 1st October– 3:00pm to 5:00pm
Wednesday 2nd October – 2:00pm to 4:00pm
Please contact the convenor, Lan Wei, at womensmoot@suls.org.au if you are able to judge one of the rounds. Your time and contribution is greatly valued.
---
Developing High Potential Female Leaders in the Legal Sector – Scholarship Opportunity 
Two $11,000 scholarships will be awarded to the Women Lawyers' Association of New South Wales network  to assist participation in the Advanced Leadership Program (ALP). Developed by a consortium of educational bodies and industry experts, the ALP is part of a national initiative to support the advancement of high potential women across all sectors and industries.
To read more please click here. Scholarship applications must be submitted by Friday 20th September 2013. 
For further information and to find out how to apply please contact Shaun Zapadlo on 1300 735 904 or email szapadlo@asam.edu.au.
---

'The Bletchley Circle' is a new British murder mystery thriller being released by ABC DVD in Australia September 4. 
Set against the backdrop of post-war London, four seemingly ordinary women become the unlikely investigators of a string of grisly murders. This three part TV series is "smart and highly suspenseful" (LA Times) and has been compared to such compelling period dramas as Call the Midwife (New York Times). 
Please see trailer: 
http://www.youtube.com/watch?v=QMzvJao8Rrs&feature=player_detailpage
Win a DVD  of the series by emailing executive@womenlawyersnsw.org.au with the subject heading 'Bletchley Circle'. Only winners will be contacted.
---

Tony Laumberg's 13th play "The Good, The Bad & The Lawyer!" 10-27 October at the TAP Gallery, Darlinghurst
The life of prominent, conservative CBD lawyer, Henry Crowley, goes into a tailspin when his wife makes an announcement: she has arranged for an Iranian refugee, who arrived pre-PNG solution, to stay in their tranquil St Ives home indefinitely, pending the outcome of his asylum application. Good Lord! If that isn't enough, Henry's deadbeat cousin arrives from Brisbane spruiking his 'fool-proof' system to turn $10,000 into a million in one night at the roulette table. All he needs is the $10,000! Meanwhile, a nosy journalist is also on the scene, delving deeply into poor Henry's private life for a feature expose. Will his precious reputation end up in tatters? 
Call the booking agency, MCA-Tix, on 1300 306776 to purchase as many tickets as you like for whatever night you wish (other than the preview) at the group price of $22.00 instead of the normal price of $30.00. You must use the promo code "Women Lawyers".
Tony is giving away 3 double passes to the preview on Thursday, 10th October at 7.00pm. The first three people to email Tony at bigsplashpro@hotmail.com with the subject heading 'GBL WLANSW' will win the tickets!
---

24 hours without makeup… can you face it? On Friday 30th August, we are encouraging women all across Australia to take on the challenge of going without makeup for one day. And we'd love your support… 
What's Makeup Free Me all about? Did you know, just 4% of women think of themselves as beautiful? Well we don't think that's right.  
By asking women to go makeup free for a mere 24 hours, we're showing the world that beauty is more than just skin deep. At the same time we're raising funds to support the Butterfly Foundation, who work tirelessly to promote positive body image. 
We need your support.  This is our first year and we're hoping to get as many people behind us as we can – women, as well as men. Because together we can make a real difference. Please visit our website for more information and to register your interest at http://www.makeupfreeme.com.au
Who are Australian Women Lawyers (AWL)?
Formed in 1997, AWL is the national body representing and funded by women lawyers associations in Australia. The current AWL Patron is the Honourable Chief Justice Diana Bryant of the Family Court of Australia.
Please feel free to pass this email onto colleagues and ensure they are on our email list for future updates and invitations.
Problems viewing this e-newsletter? Click here to view it online
If you wish to continue receiving updates and invitations via email no action is required.
To unsubscribe from this newsletter, please click this link:
Unsubscribe
To never receive email from WLANSW, please click this link:
Never Receive