Report highlights inequality at Bar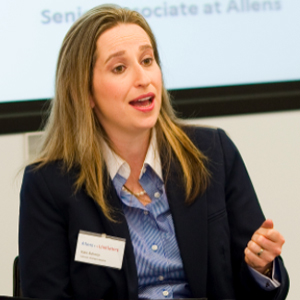 A report that shows that less than one in 10 silks is female has prompted a senior barrister to slam continuing discrimination against the briefing of women barristers.
Australian Women Lawyers (AWL) compiled a report that shows that only 7.92 per cent of all practising silks in Australia are female. Speaking to Lawyers Weekly, AWL president Kate Ashmor (pictured) described the low number of female silks as "astonishing" and said it demonstrates that the Bar has a long way to go before it achieves gender equality.
In discussing the report's finding with Lawyers Weekly, Caroline Kirton SC, the chair of the Gender & Diversity Committee at the Victorian Bar, said female barristers would continue to face barriers to achieving silk while they continued to be overlooked for briefs at the expense of male barristers.
"Frankly, there does remain a stereotypical gender bias in relation to women," said Kirton. "I have sat back and watched this over the last 22 years and there is very serious discrimination in terms of briefing women.
"Until that sort of thing changes within the culture of the profession and women are briefed regularly and are earning enough money and are appearing more regularly; I think that will be the main thing to enable change."
In 2009, a report by the Law Council of Australia (LCA) showed that while female barristers appear in statistically the same proportions as they exist at the Bar, on average, male barristers appear for significantly longer periods of time when compared to female barristers (3.8 hours for males, 2.8 hours for females).
The LCA report also found that private practice law firms are far more likely to brief male barristers than female barristers, particularly when compared to government agencies.
Not replenishing the Bar
The AWL report highlighted that the appointment of senior female barristers to judicial positions was also eroding the number of senior female members at the Bar.
"The challenge we face is the hemaeoraging of [female] counsel to the bench in various states," said Ashmor. "The challenge for the respective states and territories is to keep ahead of this trend and to ensure there is sufficient growth in the numbers of women being made silk, so when they do head off to the bench they don't go backwards."
In responding to the AWL report, the Australian Bar Association (ABA) cited female bench appointments as a prime reason why silk numbers for women are still so low.
"Many women who are appointed as silks are soon appointed as judges. This is a good thing," said Craig Colvin SC, the president of the ABA. "But it has the consequence that women silks are being lost to the judiciary at a faster rate than men."
Colvin said there is "no doubt" more women silks are needed. However, he dismissed the notion there is discrimination against women when applying for silk.
"It is about ensuring that there are more women at the Bar and that they are mentored, encouraged and supported to ensure they have access to the senior work which enables women with the abilities to be appointed as senior counsel to progress to that role," he said.  "It is a matter that the Bar takes seriously."
While Kirton applauded the LCA for conducting research into the low number of female silks, she said the ABA "should really be doing a lot more".
This article was first published at www.lawyersweekly.com.au
Back to Press / Speeches