Dear Members & ColleaguesI hope you enjoyed a break over the holidays.

We are delighted to launch the new year with our new website, and as it is developed we trust that you enjoy the new look and feel whilst further features and content are added over the next few months.

At a function recently I was asked what the Women Lawyers Association of NSW represents. The individual who asked the question was genuinely interested in our history, our present and what goals we had for the future for both the Association and for our membership. For that individual and for our new members I include the following information:

Since 1952, WLANSW has been dedicated to improving the status and working conditions of women lawyers in NSW. The Association has been proactive in liaising with Government and promoting law reform, particularly in relation to issues affecting women and children, and our input is often sought by legislative and Government bodies. We have made submissions on matters such as anti discrimination law, industrial equity, criminal law, women's health, legal aid, child care and gender bias in the legal profession.
WLANSW's membership is diverse and includes solicitors, large and small city and country firms, corporations, academia, government bodies, legal centres and law reform agencies, barristers, the magistracy and judiciary, law students, and many other areas. WLANSW hold frequent seminars and events and have close relations with associations of women lawyers around Australia and overseas.

It is important to measure our achievements by looking at the past. I note that in 1992 "The After Ada Report" found that while women were graduating from law schools in equal or slightly greater numbers than men and while similar numbers of men and women were moving into legal practice, women were then leaving legal practice in far greater numbers. Female solicitors were not promoted at the same rate as their male colleagues, experienced more harassment and discrimination, and received low levels of remuneration. Additionally, women were under represented in senior positions in the profession i.e. in partnerships, as senior advocates and in the judiciary. Nearly 20 years later in 2011 we are still faced by many of the same issues, however, our Prime Minister is female, our Governor General is female, the proportion of the number of women in the judiciary has increased dramatically and a reasonable number of General Counsel of large companies are women. We still have a great deal of work to do in relation to women at the bar, in partnerships and on boards, however, it is only the beginning of the year and look what women with law degrees have achieved!

Our major event for this year is our biennial NSW Women Lawyers Award Presentation Dinner, to be held at the WatersEdge in Sydney on Friday 23rd September – save the date! Further details and the launch of this year's awards will be announced in the next few months. We ask that our members start to think of women lawyers who should be nominated for an award. The Awards Dinner is a time to recognise achievements of your colleagues and friends.

As we firm up our events for 2011, we are pleased to note others of interest below.

Kind regards,

Rebecca Barry
President

7 February 2011

PRINCIPAL SPONSOR

Support the organisation that has supported women in law since 1952.

For further information on joining or to renew your membership please contact our office or visit our website.

Click here for the Membership Form.
---
ALB In House Legal Summit: February 22, 2011
This conference is focused on the emerging strength of Australia's in-house counsel and their contribution to overall business strategy. In house lawyers have emerged as leaders and are gaining recognition as trusted advisors to their organisations. The conference unites corporate counsel and government lawyers to discuss corporate governance issues, including board representation and ethics decision making.
Program highlights:
What has affected in-house legal practices over the past 12 months?
How to implement and maintain an ethical business framework
Value-adding to the business through commercial advice and ethical decision-making
Clarity in legal professional privilege: Evidence Act 2008 (VIC) and case studies
Systems and processes for in-house legal department management
Compliance culture in the wake of trade practices reform
Corporate governance best-practice: Lessons learned from James Hardie
Recent court decisions and legal updates in Directors Duties
Insurance: Insurance Contracts Act 1984 (CTH) and Insurance Contracts Amendment Bill 2010 (CTH)
To view the full agenda and to register: www.albmasterclass.com
Write the promotional code "WLANSW" for the discounted price of $764.50 (regularly $984.50 for in house lawyers and $1424.50 for private practice).
ALB Contract Law Series: March 9, 2011 Sydney
This conference offers CPD training for lawyers on all aspects of drafting and enforcing contracts.
Program highlights:
Latest court decisions and developments in contract law over the past 12 months
Authority to contract: Sydney Water Corporation v Makucha & Ors [2010] NSWSC 114
Update on insurance contracts: Examining different classes of contract and the effectiveness of liability insurance
Recent developments in contingent liabilities and drafting tips to minimise risk
Clarify your obligations of good faith in negotiating and resolving disputes
How to draft contracts in compliance with the new Australian Consumer Law
The practical impact of ADR in government and cross-border contracts
Interstate approaches to Proportionate Liability: Understanding the key differences
To view the full agenda and to register: www.albmasterclass.com
Write the promotional code "WLANSW" for the discounted price of $874.50 (regularly $1094.50 for all delegates).
---
UN Women Officially Launched!
On the 1st January, UN Women was officially launched. Formally known as the UN Entity for Gender Equality and the Empowerment of Women, UN Women emerged from agreement by UN Member States – backed by strong advocacy from the global women's movement – that more must be done so women can claim equal rights and opportunities. The new global website (www.unwomen.org) contains resources and information about the new entity.
UN Women are hosting their annual International Women's Day (IWD) Sydney breakfast and invite you to join them in celebrating the centenary of IWD at:
7.00am – 9.00am Friday, 4 March 2011
Bayside Grand Ballroom, Sydney Convention Centre, Darling Harbour
Guest Speaker – Justice Unity Dow (pictured), human rights activist, lawyer and writer from Botswana, and the first female justice appointed to their High Court in 1998.
MC – Philippa McDonald, senior reporter for ABC TV News
RSVP: 18 February 2011 Cost: $60 Individual; $45 Student; Corporate Table 10 $1300.
This year funds raised at the breakfast will go towards UN Women's democratic governance programs which focus on advancing women's leadership and their political participation.
Please see this invitation for further details on the breakfast.
More information about International Women's Day is available at www.internationalwomensday.org.au.
---
Gender Matters – 3rd Women on Boards Conference
27 -29 April 2011, Sheraton on the Park, Sydney
The gender gap isn't just an image problem: our research suggests that it can have real implications for company performance. (The McKinsey Quarterly, A Business Case for Women)
You are invited to clear space in your diary for the 2011 'Gender Matters' Conference, where you will be able develop your skills to:
Stay at the cutting edge of the attitudes and actions on gender diversity in Australia's workplaces and boardrooms.
Be someone who leads on this critically important issue for Australia in the coming decade.
Help to change the cultural norms in this country and shape a workplace where gender does NOT matter.
Once again we have carefully structured the program with speakers and sessions to inspire you, guide you, entertain and inform you. Most of all we want to give you three whole days of unparalleled opportunities to learn, to share and to build relationships that help you personally and professionally.
For all the details go to: http://www.womenonboards.org.au/events/conference2011/
Early Bird registration closes 25 February 2011
---
DISCOUNT TICKET OFFER
David Williamson's Don Parties On
Don threw his first election night party forty years ago. What's happened to Don and his friends since then, and what's happened to the country? And which of these two disasters will make you laugh the most?
In his 40th year as one of Australia's most popular playwrights, David Williamson presents a sequel to his classic hit play, Don's Party. The Melbourne Theatre Company production of Don Parties On has a strictly limited season at Sydney Theatre from 17 February 2011, featuring an all-star cast including Garry McDonald, Frankie J Holden, Robert Grubb and Tracy Mann.
It's 21 August 2010, the night of the latest federal election and, of course, yet another election night party at Don's place. Over the decades, he and his friends have watched governments come and go, and closely followed the incoming results from each other's lives: the tallies of luck and misfortune, the unexpected swings for and against. And through it all, the lesson that this crowd of superannuated Baby Boomers never seemed to learn is that politics and strong personalities should never be mixed with alcohol.
$10 off A & B reserve tickets for following performances
Thu 17 Feb 8pm, Fri 18 Feb 8pm, Sat 19 Feb 2pm, Mon 21 Feb 6.30pm, Tue 22 Feb 8pm, Wed 23 Feb 8pm
To be eligible for this discount, quote promo code LAWYER when booking at www.sydneytheatre.org.au or (02) 9250 1999.
Offer expires 14 February. Subject to availability.
---
WIN A DOUBLE IN-SEASON PASS COMPLIMENTS OF POP CULTURE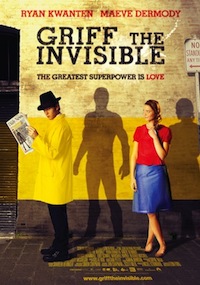 Email executive@womenlawyersnsw.org.au to go in the draw with the subject heading 'GRIFF'. Only winners will be contacted.
GRIFF THE INVISIBLE is the fresh, highly-original romantic comedy from the wildly fertile imagination of debut feature film writer / director Leon Ford. Starring Ryan Kwanten in the lead role of Griff (star of smash hit US TV series True Blood) and Maeve Dermody as Melody (who earned critical acclaim for her performance in Beautiful Kate), GRIFF THE INVISIBLE is fresh from international rave reviews and accolades from the Toronto International Film Festival, and will be in cinemas nationally on March 17.
Full images & trailer are available at the official website: www.grifftheinvisible.com
---
Who are Australian Women Lawyers (AWL)?
Formed in 1997, AWL is the national body representing and funded by women lawyers associations in Australia. The current AWL Patron is the Honourable Chief Justice Diana Bryant of the Family Court of Australia.
Please feel free to pass this email onto colleagues and ensure they are on our email list for future updates and invitations.