Dear Members & Colleagues

As the festive season shortly arrives we are delighted to invite you to join us for our final events of 2011 being our annual Golden Girls "High Tea" Lunch on Friday 18th November, and our Christmas Cocktail event on Wednesday 30th November, which will follow our AGM. Details of these events and our joint Silks Cocktail Event 17th November with WBF are noted below.

Our tradition of The Janet Coombs Lunch for New Female Barristers continues to be a great networking opportunity, and a great way to meet the new women at the bar. I was pleased to be able to attend on 21st October. (pictured below in the pink jacket beside Janet Coombs on my left).

If you do not receive your AGM Notice please contact our office. In electing our committee and office bearers for 2012, we hope to attract a broad representation of our membership base and are particularly keen for members of the judiciary, academics and senior lawyers to bring your depth of experience to the management of WLANSW. I encourage you to nominate yourself or another member for a position on the Executive Committee.
I hope that you can join us.

Kind regards,

Rebecca Barry
President

08 November 2011

PRINCIPAL SPONSOR

Support the organisation that has supported women in law since 1952.

For further information on joining or to renew your membership please contact our office or visit our website.

Click here for the Membership Form.
---
Thursday 17 November 2011, 5.30pm to 7.30pm at Bond Café, 111 Phillip Street, Sydney.
Cocktails and Canapés to Celebrate the Appointment of Two Women Senior Counsel in 2011
The Women Barristers Forum, in association with The Women Lawyers Association of NSW, invites you to join them at a cocktail function to celebrate the appointment of Sarah McNaughton SC and Kristina Stern SC.
For more information and registration, please click here.
---
Golden Girls Annual Lunch
12.30pm Friday 18th November 2011
The Law Society of NSW, 170 Phillip Street, Sydney
Please join us at the recently refurbished function facilities at the Law Society of NSW for a 'high tea' luncheon.
Our annual luncheon provides an opportunity for our retired colleagues and Life Members to reconnect and impart their knowledge and experience to others.
A rare occasion to be able to meet with some of our founding and pioneering women. All welcome. Please ensure you register prior to ensure adequate seating and catering. Please click here for details and registration form.
---
The Women Lawyers' Association of NSW Inc. invites you to join us and distinguished guests.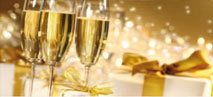 Christmas Cocktail Event 6-8pm
Wednesday 30th November
Union, University & Schools Club of Sydney
25 Bent St, Sydney
Please click here for further details and registration.
---
Are you looking to enhance your board with gender and skills diversity?
Women on Boards offers high quality and confidential board search and complimentary board posting services. Women on Boards has more than 12,000 experienced and talented women suited for the boards of listed, private, government and not for profit companies. For more information: www.womenonboards.org.au/boardsearch
Contact: Ruth Medd, WOB Chair and experienced NED Telephone: 0419 407 231 Email: ruth.medd@womenonboards.org.au
---
The first and only conference in Australia with men also championing the cause of gender equality in the workplace
Bringing together female and male perspectives for workplace equality within your firm
Collaborative change to build a better workplace
One-day forum : 31 January 2012, The Sebel Surry Hills, Sydney
Download Brochure or click here to view and register online
Please note WLANSW Members are eligible for a $300 discount. Early bird & Member discounts expire 9/12/2011.
The workplace is ever evolving, responding to the changing needs of employees whilst maintaining organisational and business objectives. Considerable progress has been made towards creating a fair and equitable workplace for both women and men, and women increasingly have better access to higher level positions and flexible work arrangements. There are, however, still a number of challenges faced by both women and men in trying to build a better workplace, such as ingrained cultural attitudes and communication problems.
There is an increasing need for women and men to work together and engage with each other to achieve greater success and enjoy the shared rewards of a better workplace. Together, female and male employees can promote cultural change, improve communication, initiate equity strategies and develop flexible work practices.
At this forum, delegates will gain practical knowledge from
international and local companies on topics such as:
Promoting better collaboration between women and men
Introducing equity initiatives and measuring their success
Proving the value of flexible work practices
Overcoming unconscious biases and negative attitudes
---
Who are Australian Women Lawyers (AWL)?
Formed in 1997, AWL is the national body representing and funded by women lawyers associations in Australia. The current AWL Patron is the Honourable Chief Justice Diana Bryant of the Family Court of Australia.
Please feel free to pass this email onto colleagues and ensure they are on our email list for future updates and invitations.
Problems viewing this e-newsletter? Click here to view it online