Dear Members & Colleagues,

WLANSW Patron and guest speaker, the Honourable Acting Justice Jane Mathews AO, formally launched the Career Intentions Survey Project at a cocktail event Thursday 11th April 2013 at the Union, University and Schools Club of Sydney, with her address 'Equality in the Legal Profession: the past, the present and the future'.  The launch also celebrated the release of the Pilot Toplines Report for the project pilot, and the distribution of the final survey questionnaire at all university law schools and the College of Law in NSW commencing early Semester 1 this year.

"I have lived through enormous changes in the profession since I first started as a law student over half a century ago, when there was only one law school in NSW and nearly all the students, and certainly all the lecturers, were men," Justice Mathews recalled. "By the early 1980's there was a very significant proportion of women studying law, and by the end of the decade they outnumbered the men and have continued to do so. It is what happens after University which remains the problem today, and this is what the survey is designed to address. We are well into the 21st century, and women are still significantly under-represented in most senior areas of the profession, such as partners in law firms, women at the bar and barristers taking silk, and most areas of the judiciary," said Justice Mathews.

"The survey also promises to give us valuable information about a number of other significant issues, such as equality, racial and ethnic issues, and may well be very valuable in the future in promoting real equality of opportunity within the profession. The survey will also highlight any differences in the career aspirations of people from rural and metropolitan areas. And I am certain that it will also throw up information which will be extremely valuable in a number of other respects which we as yet haven't even thought about. It will be the first survey of its kind in this country, so it is a very important matter," said Justice Mathews.

The Career Intentions Survey seeks to obtain data with a view to tracking and analysing the career paths and decisions of both female and male law graduates in NSW. Please click here for the Career Intentions Survey web page with links to further information, the Report and photo galley from the event. (Justice Mathews pictured with Margaret Holz; and Prof Triggs, Justice Beazley and John Dobson below).

Speaking of the past, we recently received notification that another of our pioneering founding members and Life Members, Jean Mullin (nee Malor), passed away early 2010. As remembered by fellow founding and Life Member, Janet Coombs, "Jean was an early example of 'the woman who had it all'. She had a prestigious position in her preferred area of practice and her passion, the law. She was a role model, widely respected, and will be missed." The Sydney Morning Herald obituary is noted below with further details.

Upcoming events include Law as a Career – Coming to the Bar, 5.30pm Wednesday 15th May at the Union, University & Schools Club; and The Janet Coombs Lunch for New Female Barristers, 1pm Friday 17th May at the Law Society of NSW. We hope that you can join us and distinguished guests. Further details are noted below. 

Kind regards,

Margaret Holz
President

18 April 2013

PRINCIPAL SPONSOR

Support the organisation that has supported women in law since 1952.

For further information on joining or to renew your membership please contact our office or visit our website.
---
Pioneer with a brilliant legal mind – Jean Mullin, 1914-2010
The Sydney Morning Herald;  February 2, 2010
In 1937, Jean Mullin was the first woman lawyer to graduate with first class honours from the University of Sydney. She then embarked on a long and successful career as a legal writer and editor. As a colleague wrote, she had "one of the finest minds ever to grace the pages of Australian jurisprudence". Click here to read the full obituary.
---
Law as a Career – Coming to the Bar

 
Wednesday May 15th, 5.30-7.30pm Union, University & Schools Club, 25 Bent Street, Sydney
Our panel of guest speakers will share their experiences in their respective legal careers, coming to the bar, and directions their careers have taken.  Guest Speakers: Kylie Nomchong SC of Denman Chambers; Larissa Andelman of 15 Wardell Chambers; Sarah Blakelock, Senior Associate of Ashurst. MC: Margaret Holz, President WLANSW.
Light refreshments provided; no charge; bookings essential to: executive@womenlawyersnsw.org.au.
---
The Janet Coombs Lunch for New Female Barristers
Hosted by the Women Barrister Forum & WLANSW
Friday 17th May, 1-2pm  The Law Society of NSW, Level 2, 170 Phillip Street, Sydney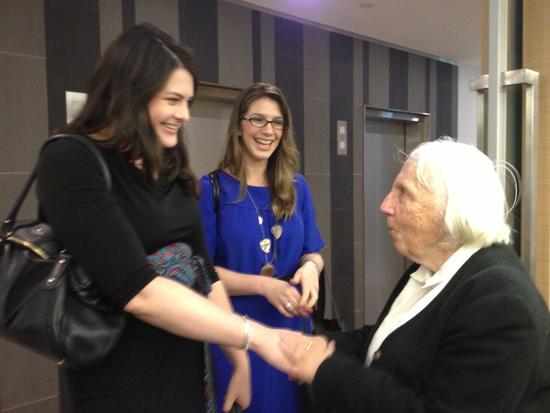 Please join us and distinguished guests for our biannual lunch and meet the new women at the bar. Cost $25pp includes the luncheon, wine and beverages. Please click here for the registration form.
Janet Coombs welcoming guests at the October 2012 luncheon event.
---
SUCCESS FACTORS FOR WOMEN 

 
Panel Discussion & Fundraising Dinner, hosted by Dress For Success Sydney
Wednesday May 8th, 6.30-10.00pm Mecure Hotel, 818-820 George Street, Sydney
Join us for a panel discussion on 'Success Factors for Women: Do employers look past how we look?', and enjoy dinner and talking with others. We will explore the factors that may affect employment prospects; our gender, our clothes, our ethnicity, our age, our general confidence and our ability to present our skills effectively. 
Join Channel 9 presenter, Deborah Knight for an evening with Catherine Fox, Kimberley Chang, Nareen Young, and Leanne Cutcher as they share their views and stories on success factors for women.
Deborah Knight, Host, Channel 9 Newsreader and journalist
Kimberly Chang, Managing Director Communications/Media and Technology, Accenture
Leanne Cutcher, University of Sydney Business School
Catherine Fox, Author and ex Deputy Editor AFR Boss Magazine
Nareen Young, CEO, Diversity Council Australia
Book a table of ten for $1300 or individual seats at $130 per person.  If you are booking a table and would prefer an invoice please call 1800 77 3456.  Click here for further details.
All funds raised go towards the running of Dress for Success Sydney to help women achieve economic independence through the provision of dressing, styling and job readiness training.
---
Who are Australian Women Lawyers (AWL)?
Formed in 1997, AWL is the national body representing and funded by women lawyers associations in Australia. The current AWL Patron is the Honourable Chief Justice Diana Bryant of the Family Court of Australia.
Please feel free to pass this email onto colleagues and ensure they are on our email list for future updates and invitations.
Problems viewing this e-newsletter? Click here to view it online
If you wish to continue receiving updates and invitations via email no action is required.
To unsubscribe from this newsletter, please click this link:
Unsubscribe
To never receive email from WLANSW, please click this link:
Never Receive
{domain.address}