Her Say! News, Views & Events – May 2014

Dear Members and Friends,

It has been a busy last month, and I hope you found some time to relax on our recent long weekends. 

We have quite a lot in the planning for the remainder of the year, and I look forward to bringing you further details shortly, but please read on for details of events in the next few weeks.

Workshops over Wine Series : The event on the 14th April, "The Brain, Blues and Burnout – The Biology of Depression" with guest speaker and psychiatrist, Dr Kathryn Lovic was well attended, and some of the great feedback included comments such as 'Thank you for organising the workshop/seminar on 14 April. I thought the topic was very relevant to lawyers and provided some guidance on avoiding burnout.'

Inspiration Before Breakfast Series: Our first event was held on 1 May with Jen Dalitz, CEO of SheEO and management consultant. Jen discussed the importance of finding your own definition of success to an enagaged and enthusiastic audience. 

Women Lawyers Network Blog: Join the conversation on our Blog which is posted weekly on our Linkedin Group and brings you the latest news, ideas and resources at: http://womenlawyersnetwork.wordpress.com

Memberships Now Open for 2014/2015
With the 2014 launch of a large number of innovative new resources and initiatives, there has never been a better time to join or renew your membership. All members of the Association have instant access to complimentary front row seats to a wide range of innovative events, workshops and resources run through the Women Lawyers Network in addition to ongoing advocacy to transform the profession from the inside out. The must have membership this year to access the tools you need to empower and inspire you to create the career you want! Details about how to join are available on our website or through this link.

Kind regards,

Natasha Walls
President

1 May 2014

PRINCIPAL SPONSOR

Support the organisation that has supported women in law since 1952.

For further information on joining or to renew your membership please contact our office or visit our website.

Click here for the Membership Form.

Natasha Walls, President WLANSW
---
'The Janet Coombs Lunch for New Female Barristers'
Hosted by the Women Barristers Forum & WLANSW
1-2pm Friday 16th May 2014
The Law Society of NSW Level 2, 170 Phillip Street, Sydney
Please join us and distinguished guests for our biannual lunch and meet the new women at the bar. We are delighted to advise that there are twenty two female readers in the Bar Practice Course representing 38.6%.
Members & Guests $25pp includes the luncheon,
glass of wine & beverages  (incl. GST)

Please click here for the registration form. Limited seats so please book early to avoid disappointment.
Janet Coombs pictured welcoming guests at the October 2012 luncheon event. 
---

Join us on Thursday 8th May at the Mercure Sydney for our 2014 Business Dinner. The theme in 2014 is 'The Rewards of an Unpaid Passion'.  We are delighted that Channel 9 Newsreader and journalist, Deb Knight has once again offered to MC our dinner together with our fabulous panelists.
Confirmed Panelists:
Kirsten Galliott – Editor of InStyle Magazine Australia, 

your ultimate style guide

Suzy Jacobs – Founder and Chief Inspiration Officer of SHE Business franchise, Australia's leading business organisation for women

Su-Lin Ong – Managing Director of Royal Bank of Canada Capital Markets and Head of Economics & Fixed Income Strategy for Australia/NZ

Daina Richmond – Special Counsel Clayton Utz and National Director of the Community Connect program.
Read more about our panelists here. Book a table of ten for $1300 or individual seats at $130 per person.  If you are booking a table and would prefer an invoice please call 1800 77 3456. 
All funds raised go towards the running of Dress for Success Sydney to help women achieve economic independence through the provision of dressing, styling and job readiness training. A dinner not to be missed! Click here to register now!
---
Join us this Mother's Day as we celebrate and honour the role of mothers and how together we can make a life-changing difference to refugee women.
Book now for our special Mother's Day Lunch with host Wendy Harmer, one of Australia's best-known media personalities. A former political journalist, stand-up comedian and author of eight books, Wendy is currently the Editor in Chief of The Hoopla and in 2013 was named among the 40 most inspiring women in Australia.
When: Friday 9 May 2014
Where: The Ivy Ballroom, The Ivy, 320-330 George Street, Sydney CBD
Time: 12:00pm – 2:30pm
Buy your tickets here. Tickets are $180 and includes a two-course lunch, complimentary drinks and a gift bag.
Corporate tables and sponsorship packages start from $3,000 which includes a tax deductible donation to Australia for UNHCR. For more information, please email rsvp@unrefugees.org.au. We encourage you to book early to avoid disappointment.
---
Sydney Comedy Festival's second annual Frocking Hilarious, hosted by ActionAid Australia is back in 2014, with tickets now on sale at : http://frockinghilarious.com/ 
An all-female line-up of Australia's funniest women will take to the stage for one outrageous night in support of women's rights and empowerment around the world. After last year's sell-out event, Frocking Hilarious returns bigger and better than ever.
The comedy gala at the Enmore Theatre on Wednesday 14th May 2014  will feature Judith Lucy, Denise Scott, Fiona O'Laughlin,George McEncroe, Lady Sings It Better and many more to be announced! 
ActionAid Australia Executive Director, Archie Law, said that Frocking Hilarious is a unique opportunity to celebrate women's rights through the power of laughter. Visit their website for more information:
http://www.actionaid.org/australia
---
WOMEN'S HISTORY MONTH 2014
This was a great success – we are in debt to (and awe of) our great debaters Angela Woollacott, Dawn Casey, Marilyn Lake, Alix Biggs, Marnie Hughes-Warrington and Anne Summers; the trio of adjudicators Daryl Karp, Tony Taylor and Kim Rubenstein – and the superb chair, Genevieve Jacobs. 
We're delighted to advise that the debate is now online at http://canberralive.act.gov.au – don't miss it!
The End of Women's History Month 
As advised, our team is disbanding – if you have comments or ideas about Women's History Month please share them on www.womenshistory.net.au – we'll maintain this website during 2014 as a forum for this purpose.
The End of www.womenshistory.com.au This website will be downloaded, Pandora'd and then taken offline at the end of this month.
Thanks to all who contributed to the celebration of Women's History Month Australia from the first in 2000.
The Canberra WHM Team
---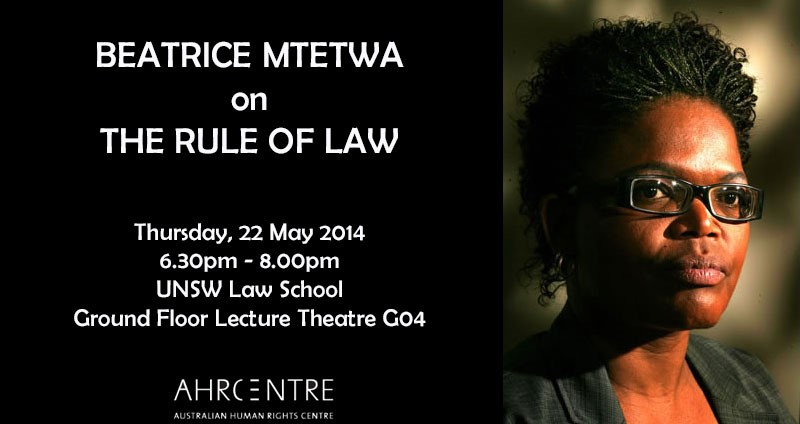 AHRCentre Annual Public Lecture, Thursday 22 May 2014, 6.30-8pm 
Ground Floor Lecture Theatre G04, UNSW Law School, Kensington
The lecture will include a screening of an abridged version of Beatrice Mtetwa and the Rule of Law.
Beatrice Mtetwa is a prominent human rights lawyer in Zimbabwe. She has defended numerous human rights campaigners, lawyers, journalists, non-governmental organisations, and opposition candidates. Ms Mtetwa also champions a variety of social issues, including preserving the essential freedoms of peaceful assembly, association and speech; protecting the rights of women and children; eradicating AIDS and poverty; and providing pro bono legal aid to farmers evicted from their land by the Zimbabwean government. RSVP: Essential, click here.
---
SULS King & Wood Mallesons Women's Mentoring Program Seeks Women Lawyer Mentors
The Sydney University Law Students Society King & Wood Mallesons Women's Mentoring Program is seeking mentors to participate in the program for 2014. The program endeavours to pair each female law student applicant with a mentor whose area of expertise is of particular interest to the student. In doing so, it develops a co-operative network to support and encourage women who aspire to enter the profession. In its eleventh year, the program continues to receive positive feedback from mentors and mentees alike. To participate as a mentor and for further details, please contact Meena Mariadassou on 0435 120 876 and womensmentoring@suls.org.au.
---
The National Children's and Youth Law Centre (NCYLC) and King & Wood Mallesons are pleased to announce the 2014 Children's Law Awards open and are calling for nominations.
Nomination close 13 June 2014 and the forms can be found on the NCYLC website: www.ncylc.org.au The Awards dinner and ceremony will be held in Sydney on 5 September 2014.
Nominations are being sought in the following categories (for either an individual or an organisation):
The National Award for Outstanding Legal Representation of the Rights and Interests of Children and Young People;
The National Award for Outstanding Contribution to Policy or Law Reform to Advance the Legal Rights and Interests of Children and Young People; and
The National Award for Youth in Advancing the Legal Rights and Interests of Children and Young People (nominees must be under the age of 25 for this category).
---
Nominate a brilliant business woman
Nominations are now open for the 20th Telstra Business Women's Awards. As the longest-running state, territory and national awards program for business women, the Awards celebrate the leadership, determination and innovation of successful business women in our community. They also inspire other women to walk in their footsteps and reach their own goals. 
Twenty years ago the Telstra Business Women's Awards encouraged women to break through the glass ceiling; today they play an important role in encouraging diversity in business across Australia. 
The Awards are open to business owners, women in the private and corporate sector and in the government and community sectors, with two specialist categories for business innovation and young business women. For finalists and winners across Australia, they also offer a share in $650,000 in cash and prizes.
The 2013 Telstra Australian Business Woman of the Year and CEO of QSuper, Rosemary Vilgan said: "Winning the Awards made me reflect on my achievements. I'm a person who keeps setting the bar higher and further out and perhaps looking at what I haven't yet done – the Awards helped me understand that this trait helps me keep achieving." 
Nominations can be made at womensawards.com or by calling 1800 817 536. Entries can be submitted from  26 May until 14 July. For more information head to womensawards.com   
---
Win In-Season Double Movie Passes


compliments of Transmission Films

Email executive@womenlawyersnsw.org.au with the subject heading either 'FADING GIGOLO' Only winners will be contacted.
Written, directed by and starring John Turturro (O Brother, Where Art Thou?) and an all-star ensemble cast including Vanessa Paradis, Woody Allen, Liev Schreiber, Sharon Stone and Sofia Vergara. 
The sophisticated adult comedy FADING GIGOLO tells the story of a New York City book store owner (Woody Allen) who manages to convince his friend (John Turturro) that there is a fortune to be made by becoming a professional gigolo. Hilarity ensues as the two friends struggle in their new careers. 
In cinemas May 1. Watch the trailer here: http://bit.ly/Fading_Gigolo
---
Who are Australian Women Lawyers (AWL)?
Formed in 1997, AWL is the national body representing and funded by women lawyers associations in Australia. The current AWL Patron is the Honourable Chief Justice Diana Bryant of the Family Court of Australia.
Please feel free to pass this email onto colleagues and ensure they are on our email list for future updates and invitations.
Problems viewing this e-newsletter? Click here to view it online