Dear Members & Colleagues

Nominations for the 2011 New South Wales Women Lawyers Achievement Awards have now closed, and I have great pleasure in announcing the nominees as noted below.

The Women Lawyers Association of NSW supported by the Law Society of NSW, the NSW Bar Association, the Attorney General & Justice Department of NSW, the Australian Corporate Lawyers Association and the Equal Opportunity for Women in the Workplace Agency, invite you to join us for our gala presentation awards dinner on 23rd September at WatersEdge, in recognising outstanding women lawyers who have achieved excellence in their area of practice, while advancing opportunities for women in the law.

Our special guest speaker will be The Honourable Justice Margaret Beazley AO of the Supreme Court of NSW, and the evening will include a performance by the NSW Bar Association Choir.

Five categories of Awards and a Lifetime Achievement Award will be presented at the gala dinner to be held at 7:30pm on Friday, 23 September 2011 at the WatersEdge, Sydney. Registrations are now open and seating is limited, so please book early to avoid disappointment. Please click here for the Registration Form or contact our office to reserve your table at executive@womenlawyersnsw.org.au or phone 0466 157 087.

Woman Lawyer of the Year in Private Practice:

Katie Malyon, Katie Malyon & Associates

Snezana Vojvodic, Gadens Lawyers

Vanessa McNeilly, McNeilly Lawyers

Anna Walsh, Maurice Blackburn

"In House" Woman Lawyer of the Year sponsored by Blake Dawson :

Prue Milne, AMP Capital Investors

Victoria Poole, Westpac

Louise Blazejowska, Legal Aid

Kate Perumal, Abigroup Ltd

Woman Lawyer of the Year in a Community Organisation:

Dr Natalie Klein, Macquarie University

Dr Chandrika Subramaniyan, Success Lawyers & Barristers

Susan Smith, Redfern Legal Centre, WDVCAS

Emma Golledge, Kingsford Legal Centre

Beatrice Gray, University of Sydney

Dianne Hamey, Women's Legal Services NSW

Karen Mifsud, Women's Legal Services NSW

Woman Lawyer Advocate of the Year:

Sandra Duggan, Martin Place Chambers

Anne Healey, Frederick Jordan Chambers

Julia Baird SC, 12th Floor Selborne/Wentworth Chambers

"Up & Coming" Woman Lawyer of the Year sponsored by Middletons; includes an MGSM Leadership Course :

Brenda Tronson, Sixth Floor Selborne Wentworth Chambers

Claire Hammerton, NSW Aboriginal Land Council

We hope that you are able to join us and distinguished guests on this prestigious occasion, and I look forward to bringing you further information on our nominees shortly.

Kind regards,

Rebecca Barry
President

15 August 2011

PRINCIPAL SPONSOR

Support the organisation that has supported women in law since 1952.

For further information on joining or to renew your membership please contact our office or visit our website.

Click here for the Membership Form.
---
Australian Lawyers for Human Rights and The Sydney Centre for International Law
Invite you to – The Law and Medicine: diverging images of trauma in Darfur
17 August 2011, 6:00 -7:30 pm
USYD Minter Ellison Conference Room, L13, 173-175 Phillip Street, Sydney
Please click here for the flyer and further information.
Enquiries: Catherine Renshaw cren3863@uni.sydney.edu.au / 0412813990
This event is free, but for catering purposes please RSVP to nsw@alhr.asn.au
---
UTS: Law Opera Fundraising Dinner – Tuesday 6 September 2011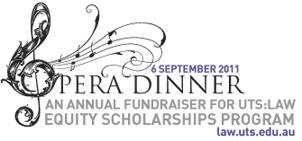 This is a chance to make a difference, while providing an opportunity to network, reward staff and entertain clients. Enjoy a sensational three-course dinner, accompanied by fine wines, featuring performances by the young stars of Pacific Opera. All proceeds go towards the UTS: Law Equity Scholarship Fund to benefit outstanding students suffering financial hardship. For further information or to purchase your tickets/ make a donation, please click here.
---
Human Rights & Women's Rights Activist Maryam Namazie, the spokesperson for the UK organisation, One Law for All www.onelawforall.org.uk/ , is visiting Australia from 20 August 2011 and speaking at the following events in Sydney. 22 August 6.30 pm – "Should Australia follow Britain in accommodating Islamic sharia law?" Talk by Maryam Namazie and fundraising dinner for One Law for All, at Finola's Restaurant, 156 Darling St Balmain. Cost: $50. RSVP to Gaby Grammeno (02) 4754 3569 or ggrammeno@bigpond.com

25 August 5.30 pm – "Sharia law and women" – Maryam is guest speaker at the University of Western Sydney's Open Forum, Building EE room G.03 at the Parramatta South campus UWS. Cost: Free. RSVP: http://www.uws.edu.au/equity_diversity/equity_and_diversity/activities_and_programs/rsvp/_nocache

27 August 2.00 pm – "Challenging sharia law" at Humanist House, 10 Shepherd St Chippendale. Cost: gold coin donation for non-members of NSW Humanists.

For more information about Maryam's visit to Australia, please contact Gaby Grammeno (02) 4754 3569 or ggrammeno@bigpond.com
---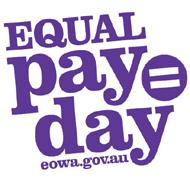 EOWA has announced the date for Equal Pay Day 2011 will be 1st September. ABS data places the gender pay gap at 17.2%. To close this gap, women would have to work an extra 63 days to match what men earn. Symbolically , Equal Pay Day is timed to coincide with the expiry of this extra period calculated from year-end. This annual event highlights the serious issue of gender pay inequity in Australia. Women's pay has remained between 82-85% of men's pay since 1990. We encourage you to use Equal Pay Day to address the gender pay gap in your organisation.

Women Lawyers Association of NSW encourage you to wear something purple on 1st September and show your support.
---
The Aurora Native Title Internship Program – applications open soon for summer 2011/12
The Aurora Native Title Internship Program places law, anthropology and other social science (archaeology, cultural heritage, environmental management, human geography, history and sociology) students and graduates from Australian universities at Native Title Representative Bodies (NTRBs) and other organisations involved in policy development, social justice and Indigenous affairs. The program introduces candidates to career opportunities in native title and Indigenous affairs and at the same time provides assistance to under-resourced and over-worked organisations.
The application period for the summer 2011/12 round of internships is from Monday 8th August through Friday 2nd September. Applications can be submitted via the Aurora website at www.auroraproject.com.au
---
Charlie Perkins Indigenous Scholarships to the University of Oxford and the University of Cambridge for 2012
Each year the Charlie Perkins Scholarship Trust offers two scholarships for Indigenous postgraduates to study at the University of Oxford and the University of Cambridge for up to three years.
The Perkins Trust website provides comprehensive information on the scholarship criteria, how to apply, key dates, etc. (www.perkinstrust.com.au).
Please note that the closing date for this year has been brought forward and applications will close on Friday 14th October 2011. The Charlie Perkins Scholarships will only be awarded to students who have been accepted to either the University of Oxford or Cambridge. In most instances, this will require a First Class Honours degree or a very strong Second Class Honours degree.
If you require any clarification on the information contained on the website, please do not hesitate to contact Marshall Thurlow on marshall.thurlow@auroraproject.com.au
---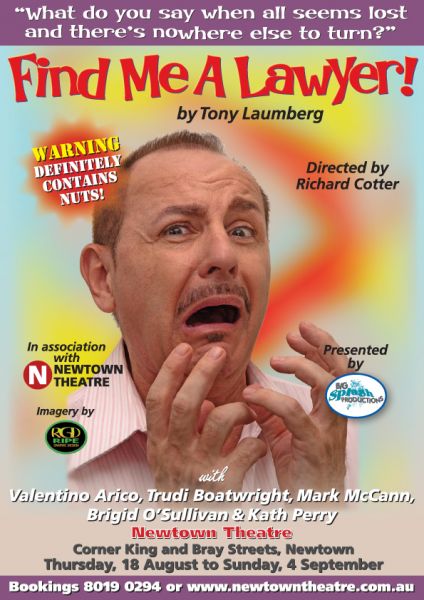 Fun and frivolity rule as playwright and solicitor, Tony Laumberg, returns to present his 11th play! Turn off the lights, suck in your breath and let the hilarity begin!

Tony is offering 5 double passes

to the first 5 members to email him at bigsplashpro@hotmail.com with the name of the play's director.

Plus…

Thursday, 1 September 2011 is "Women Lawyers' Night" and any member who emails or calls the Newtown Theatre (see attached flyer for details) can purchase as many tickets as they like for that night at the concession price of $24.00 instead of the normal price of $30.00. When you collect your tickets at the box office you must identify that it's a "Women Lawyers" concession.

The play runs at the Newtown Theatre, cnr King and Bray Streets, Newtown from 18 August to 4 September 2011. Performances are on Wednesdays to Fridays at 7.00 pm, Saturdays at 7.30 pm and Sundays at 4.00 pm.
Tickets: $30.00/$24.00 conc. or groups of 8+ (preview $20.00) incl. GST (plus booking fees). Bookings: Newtown Theatre on 8019 0294 or order online at www.newtowntheatre.com.au
---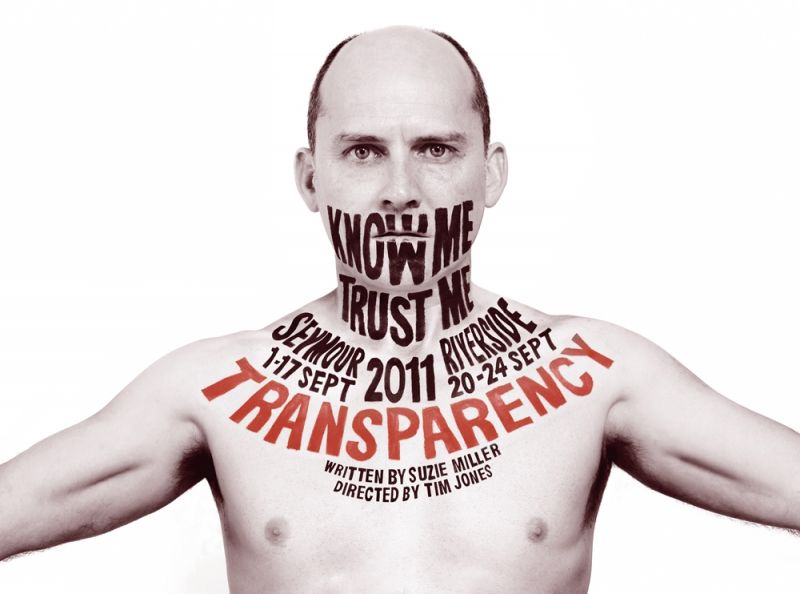 Seymour Centre in association with Riverside Productions presents
TRANSPARENCY
By Suzie Miller
1 – 17 September 2011Transparency is a bold new Australian play written by award-winning playwright, Suzie Miller. Part thriller, part social-drama, Transparency tells the story of Simon, a park ranger, who is trying to live a normal life under an assumed identity. However, the disappearance of a young boy rocks his small town, instigating a chain of events that will alter the lives of everyone involved.
Previously a children's rights lawyer for Freehills, Miller was awarded the Kit Denton Fellowship for courageous writing for Transparency in 2008. Following an acclaimed production at the Belfast Festival with the prestigious Ransom Theatre Company, Transparency has its Australian Premiere this September at the Seymour Centre.
SPECIAL TICKET OFFER: The Seymour Centre is offering a special ticket price of $35 (normally $47) for performances on Thursday 1, Friday 2, Tuesday 6 and Wednesday 7 September. To access this great offer simply call the Seymour Box Office on (02) 9351 7940 or book online and use the code word 'TRUST'.
---
Who are Australian Women Lawyers (AWL)?
Formed in 1997, AWL is the national body representing and funded by women lawyers associations in Australia. The current AWL Patron is the Honourable Chief Justice Diana Bryant of the Family Court of Australia.
Please feel free to pass this email onto colleagues and ensure they are on our email list for future updates and invitations.
Problems viewing this e-newsletter? Click here to view it online