Committee 2009
Committee 2009
Mary Snell
WLA NSW PRESIDENT
Mary has been a member of NSWWLA since 2005. In September 2007, Mary relocated from the mid north coast town of Port Macquarie to Sydney. In November 2007, Mary was elected Treasurer.  Mary is a current councillor of the Law Society of NSW and is a Past President of both NSW Young Lawyers (2004) and the Mid North Coast Regional Law Society (2003-2005).  Mary is a member of the joint committee and chair of a subcommittee of the Professional Conduct Committee of the Law Society of NSW.  She is also a member of the Environmental Planning and Development, Finance, and Property Law Committees of the Law Society of NSW and a board member of PILCH.  After 10 years in private practice, Mary has recently commenced a new role as a solicitor in the City Prosecutor's Office at the City of Sydney Council.
---
Pauline Wright
VICE PRESIDENT
Pauline was admitted in 1985 and is currently in private practice with P J Donnellan & Co in Gosford. She is a Councillor of the Law Society of NSW, serving her third term and is presently chair of the Law Society's Criminal Law and Environmental Planning and Development Law committees and is a past chair of the Human Rights, Gender & Industrial Issues Taskforce and On-Line Services committees. She has served on the Professional Standards committee since1996 and also served on the NSW Young Lawyers Executive Council, Business Law and Children's Legal Issues committees. Pauline has a keen interest in criminal and social justice and civil liberties issues and has been Vice President of the NSW Council for Civil Liberties since 1996. She also sits on the Board of Governors of the Law and Justice Foundation.
---
Lee-May Saw
IMMEDIATE PAST PRESIDENT AND AUSTRALIAN WOMEN LAWYERS REPRESENTATIVE
Lee-May is the solicitor in charge of the Family Law and Care & Protection Division of JPM Legal, a firm based in South West Sydney at Campbelltown.
Prior to moving into private practice, Lee-May worked at community legal centres including Women's Legal Services New South Wales and the Intellectual Disability Rights Service. Lee-May has been involved with the WLA NSW Committee and other professional legal organisations, since she was a student. She is the current Treasurer of Australian Women Lawyers, was President of WLA NSW for two years in 2006-2007 and 2007-2008, and has held various positions on the WLA NSW Committee including Treasurer and Media Officer.
Lee-May is interested in various areas of practice outside of  the family law, including criminal law, advocacy, and arts and media law. She looks forward to continuing her involvement with the WLA NSW Committee in 2008-2009.
It's amazing how much a bio can change in the space of 12 months!
---
Eirene Garnsey
CO-SECRETARY
Eirene is a senior associate at Clayton Utz  in the Mergers & Acquisitions group, advising on mergers and acquisitions, listing rules, directors' duties and other general corporate issues for a range of public and private companies and investment funds.
---
Melinda Harris
CO-SECRETARY
Melinda is a Senior Associate at Blake Dawson in the Property, Projects and Government team and specialises in property, PPP and infrastructure developments. She has particular experience advising public and private clients in the transport industry and has acted for local, state and federal government departments and agencies, developers and construction companies.
Melinda was involved in setting up the Sydney Women's Initiative Mentoring group (SWIM) in the Sydney office of Blake Dawson which has been running since 2006 and has almost 100 members. She has particular interest in the facilitation of mentoring in law firms and fostering a good working environment for all lawyers. Melinda is an accredited specialist with the Law Society of New South Wales in property law.
---
Kylie Maxwell
TREASURER
Kylie was admitted in 2000 and has practised in private practice in both NSW and QLD. She has also worked in the NSW public sector advising government entities and the executive. She currently works for Prolegis Lawyers, a specialist law firm in North Sydney providing services soley to the charity and not-for-profit sector.
Kylie has experience in a variety of practice areas including the conveyancing of land and water rights, commercial leasing, planning and environmental law, commercial litigation, commercial, contruction (front-end), occupational health and safety, defamation, bankruptcy, succession planning and estate administration.
Kylie has been a member of the Ethics Committee of the Law Society of NSW since 2008. She keeps her hand in property, planning and environmental law issues by maintaining a connection with Young Lawyers Property Law and Environmental Law Committees. Kylie wishes to be involved in developing collegiality between like-minded women to promote the participation of women in decision-making processes in the legal profession.
---
Kian Safaei
PROFESSIONAL ISSUES OFFICER & NSW YOUNG LAWYERS REPRESENTATIVE
Kian has been working as a migration agent since 2003 and was admitted in 2004. She is the owner of Seekers Migration Consultancy where she does most of her work. Kian has served on the WLANSW Committee for the last 3 years and she has held the position of Professional Issues Officer and Young Lawyers Liasing Officer during this period. She is also their representative on the State Board of the Business and Professional Women Association. She is currently also serving on the Ethic Committee of the Law Society as well as being the Secretary of the Central Coast Law Society. Her aim is increase the profile of WLANSW and cultivate productive relationships with other like-minded organisations.
---
Rebecca Barry
FUNCTIONS OFFICER
Rebecca practices as a Solicitor at TressCox Lawyers in the area of Corporate and Commercial Law. Rebecca's clients are publicly listed and private companies (small to medium), financial service providers, insurers, trusts, associations and colleges. Rebecca is particularly interested in women's history and completed her thesis "Stepping Stones: the Role the Women's College Played in the Professions at the Turn of the Century" as part of her honours degree in history at the University of Sydney. Rebecca is also on the Business Law Committee and the Social Committee of NSW Young Lawyers.
---
Leah Sewell
CO FUNDRAISING & SPONSORSHIP OFFICER
---
Kate Blue
CO FUNDRAISING & SPONSORSHIP OFFICER
---
Nicola Glover
RESEARCH OFFICER
Nicola is an Executive Assistant in the Employee Relations Group at Freehills. She joined the WLANSW in August 2008. She holds a Bachelor of Science from Roehampton University, London and wrote her thesis on women and equality in policing. She is currently reading part-time for a Bachelor of Laws and plans, after being admitted, undertaking an LLM prior to going to the Bar. She is keen to see an increase in the number of women going to,and being retained at, the Bar. Nicola is a mother of three and a keen horse rider.
---
Margaret Holz
COMMITTEE
Margaret first joined WLA when she was a student in the mid-70's. She was admitted as a solicitor in 1976 and practised at Hunt & Hunt, rising from articled clerk to partner, until 1991. She then left to establish the firm Ferguson Holz where she was managing partner until being called to the Bar in 2003. Her work has always been in personal injuries litigation, specialising in motor accidents. She was a Supreme and District Court Arbitrator and a Costs Assessor for many years and is presently both an assessor for the Motor Accidents Authority and a District Court mediator. Margaret has been a member of the Costs, ADR and Common Law Committees of the Law Society. She later spent three years as a Bar Councillor and has chaired the New Barristers Committee. She is presently a committee member of the Women Barristers Forum and the Bar's Professional Conduct Committee.
---
Azadeh Khalilizadeh
MEDIA OFFICER
Azadeh Khalilizadeh was admitted in 2004 and left the Banking and Finance sector of Gadens Lawyers to launch a career in media and publishing. Azadeh has been an editor of The Australian Legal Monthly Digest, a legal journalist for online news service Alert 24 and an author for Findlaw. Azadeh has also contributed to the Indigenous Law Reporter, Bar Quarterly, Current Family Law Journal and the Industrial Law Reports.
Currently an Account Executive with Thomson Reuters, Azadeh manages information services for over 300 law firms state-wide. Joining the WLA NSW in 2008, Azadeh seeks to create greater awareness of the personal, social and career issues facing women in the legal profession. Azadeh holds a Bachelor of Arts (Honours) and Bachelor of Laws from the University of Sydney.
---
Leigh Burland
COMMITTEE
Leigh is an associate at McCabe Terrill Lawyers and practices in the area of workplace and industrial relations. Her solid knowledge of the practices and procedures of NSW Public Sector organisations comes from first hand experience gained working in-house with various NSW Public Sector agencies. Her main client is currently the NSW Police Force and she manages the claims made against them in the NSW Industrial Relations Commission and "hurt on duty" claims in the District Court and Government and Related Employees Appeal Tribunal.
Leigh has extensive experience in representing a large transport organisation in defence of disciplinary and promotion appeals by employees. She also has experience in handing discrimination claims in both State and Federal jurisdictions. Leigh holds undergraduate law degrees from the University of South Africa and the University of New South Wales and has recently graduated with a Masters of Law from the University of Sydney. Leigh is also an active member of the McCabe Terrill pro-bono committee.
---
Janet Coombs
COMMITTEE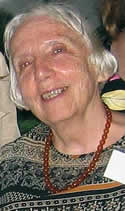 Janet came to the Bar in 1959 and practised for 38 years. Joining WLANSW as a law student, Janet has maintained an active interest, serving on various committees, and is a Life Member. She has a continuing and proactive interest in Law Reform. Janet is the WLANSW representative on the National Council of Women of NSW committee.
---
Elizabeth Maconachie
COMMITTEE
Admitted in 1994, Liz's areas of practice include mediation, children's law, administrative law, professional conduct and legal ethics. Liz has set up her own sole practice, Better Outcomes, as a mediator/solicitor. She also conducts workshops at UTS for final year students in Professional Conduct and Legal Ethics. She has experience working in large and small firms, legal costing, as an investigative solicitor at the Law Society of NSW and until 2003, as Deputy Director, Professional Conduct at the NSW Bar Association. She is a member of the Law Society Ethics Committee, Women Lawyers' Association of NSW, Medico-Legal Society Committee, St. James Ethics Centre and International Commission of Jurists. Liz is committed to promoting a valued, ethical and vital legal profession.
---
Kathryn McKenzie
EXECUTIVE OFFICER
Kathryn has extensive experience in administration, association and event management. She has worked with small business to large corporates, non-profit organisations and many committees. With senior management experience in a diversity of business sectors, successfully organising numerous events, sponsorships, government and media liaison, she has qualifications in business management and counselling, franchising, mediation, journalism and public relations. Kathryn is also the Public Officer for WLANSW.
Kathryn McKenzie, Principal of Business Angel Services Pty. Ltd., officially took over the responsibility as at 12 August 2003. In welcoming Kathryn, WLANSW would like to thank Anne Stewart and her team at Creative Conferences for their assistance and support as our Executive Officer over the previous five years.